Allow your customers to Check-in online.
The Guest Area is the net2rent tool that allows the registration of data by the guest in a fast and secure way.
It also gives your agency's clients the possibility of facilitating or completing the payment of bookings and contracting extras before or during the booking. A tool that will facilitate your agency's processes.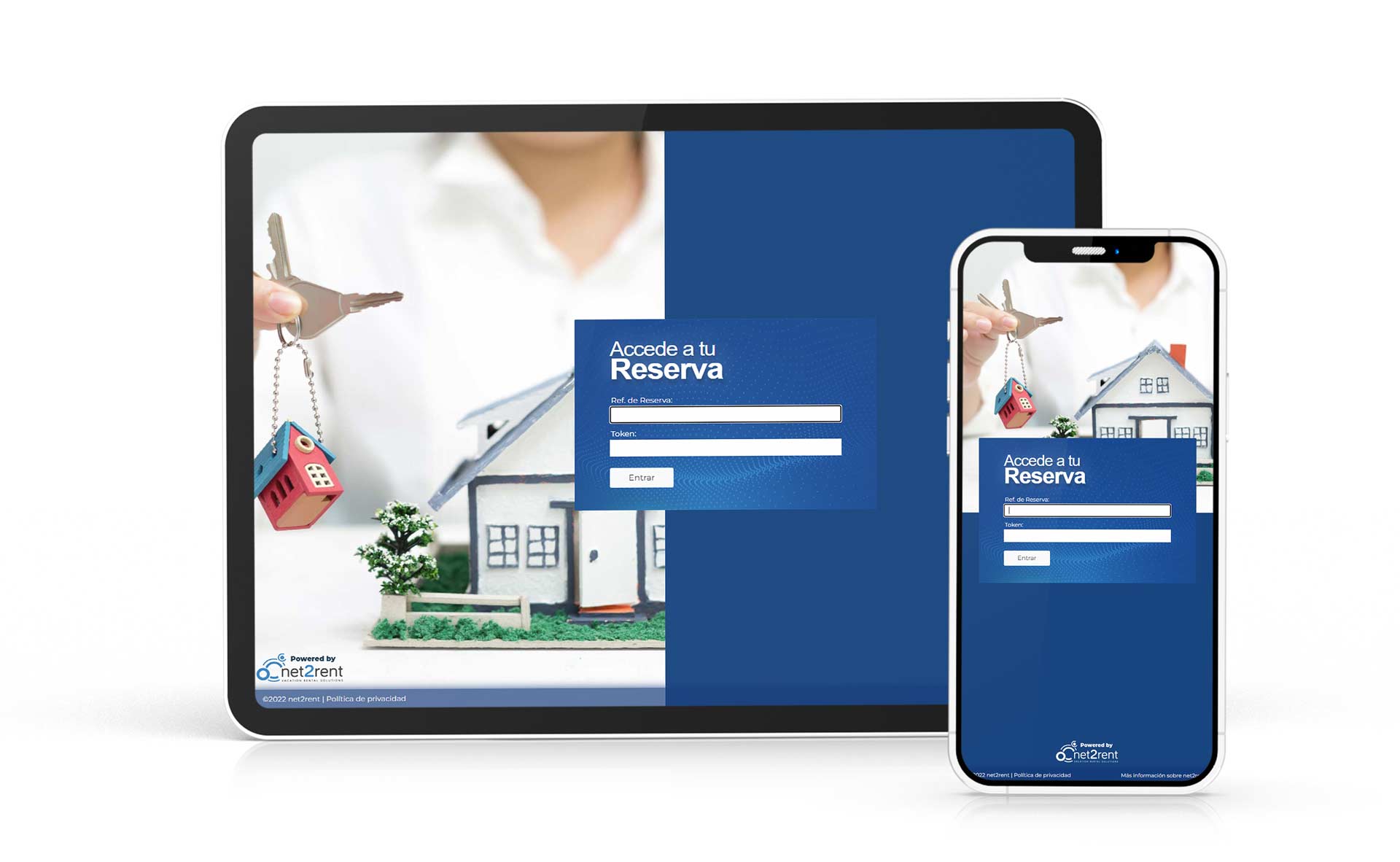 Allows online check-in by customers
And it facilitates the payment of bookings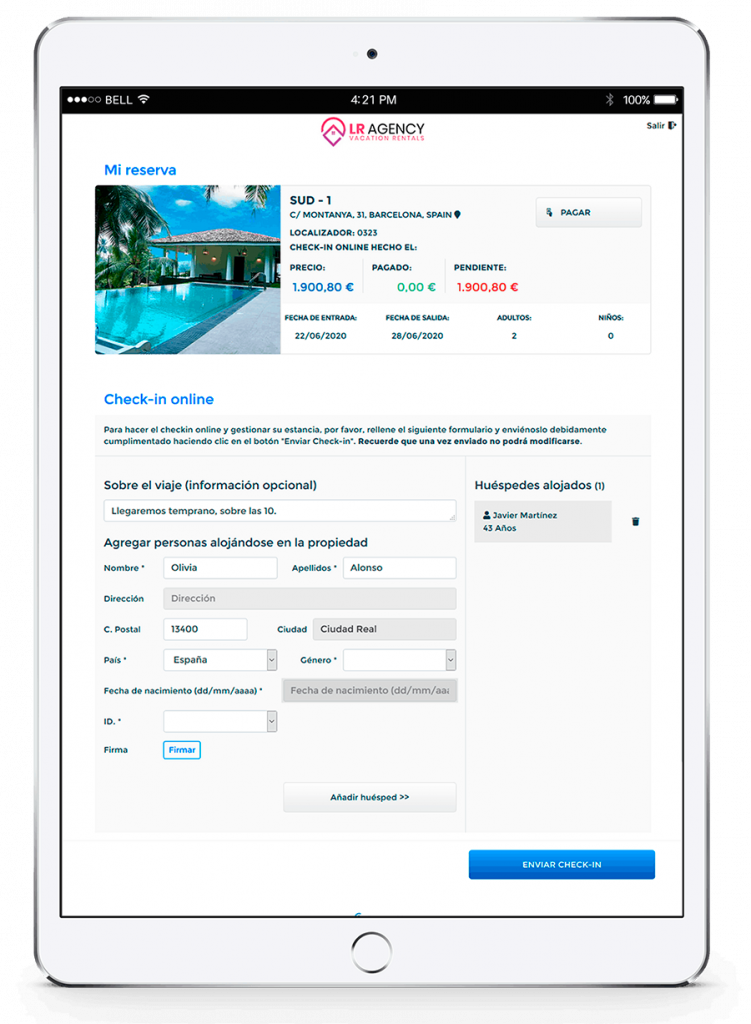 The advantage of having the traveller check in all occupants online is that it will allow you to optimise the entire booking flow, save management time and in turn, improve the hospitality experience with all your customers.
· A fully responsive tool, which makes it easier for the client to process registration from any mobile device, allowing them to reduce unnecessary waiting times and helping them to locate more comfortably your accommodation.
· In addition to obtaining fluid and direct communication with your clients, it will facilitate the management of records for the different police forces.
· Another great novelty included in our registration tool is that it allows you to automate the reservation payment processes. Customers can complete pending payments directly from the app.
· This process, in addition to streamlining accounting management with the client, will facilitate the conversion of pre-reservations into effective reservations within our PMS, thus avoiding possible confusion and repetitive tasks.
· The Guest Area also allows users to contract Extras before and during the course of the reservation, allowing them to offer value-added services to the agencies.
This entire application is personalized for our clients, where they can include their corporate logo and can also facilitate access to check-in directly with a parameterized binding.
At net2rent we have worked to develop the "Guest Area", a new tool that facilitates the registration of travellers by making online check-in easy and secure. In addition, from this area, it will also be possible to make the online payment of the booking as well as to complete pending payments.
We show it to you in this Quick Guide, don't miss it!
Calculate your fee with our calculator
Descobreix els plans de subscripció que tenim disponibles i calcula la teva pròpia quota en funció del nombre d'allotjaments que gestionaràs i els serveis que desitges contractar. Perquè cada negoci és diferent, nosaltres adaptem els nostres preus al teu negoci.
Shall we talk? Fill in this form and we will contact you.
Pursuant to the provisions of the General Personal Data Protection Regulation, the client whose details appear on this form expressly consents to Buda Business Data Software S.L. processing their personal data for the purpose of invoicing and promoting the services marketed with the same, as well as authorising communication with those entities with which it has entered into a contract for the provision and promotion of services.
The data will be included in an automated file of Buda Business Data Software S.L. which has the necessary security measures for confidentiality and you may exercise your rights of access, rectification, cancellation/deletion, opposition, limitation or portability in accordance with the law, by writing to Buda Business Data Software S.L. together with a photocopy of your ID card: Buda Business Data Software S.L., with address at Edificio @Sant Cugat Business Park. Avda. Via Augusta, 15-25 08174 Sant Cugat del Vallés, Barcelona – Spain.