The secret of net2rent's success lies in how we continuously adapt our services to the needs of our clients. We bring extensive experience and the best professionals to take care of your business, and achieve considerable economic benefits as a result of exceptional customer service.
Monetize your business and get more income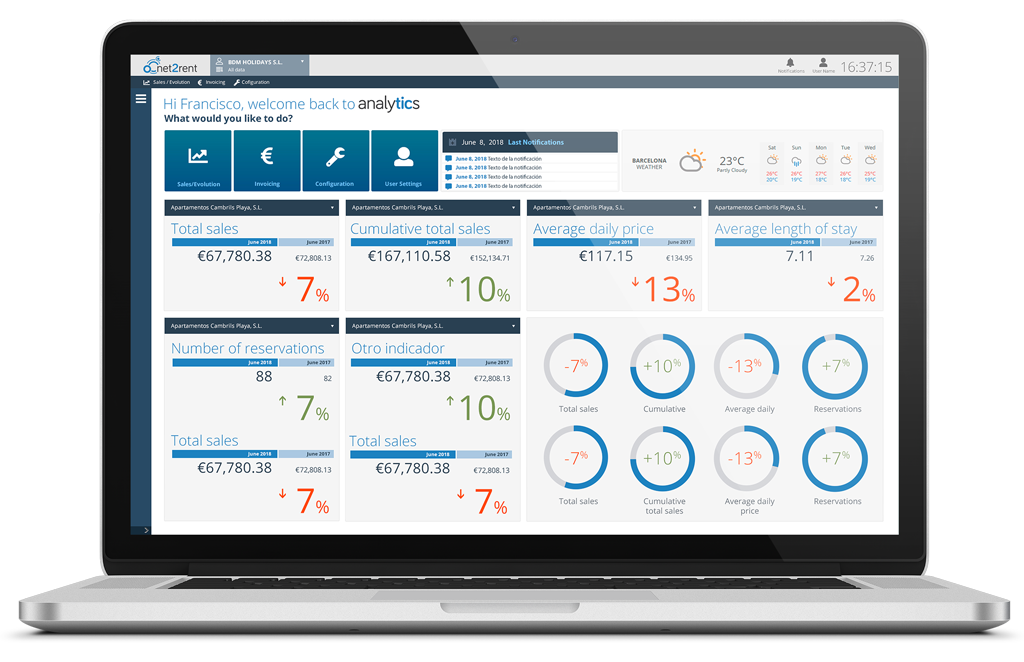 Analytics N2R is an analytical tool for the control and management of income that will allow you to analyze in depth the profitability of your properties and make price forecasts according to the tourist market and demand.
All data is extracted from the PMS and updated once a day.
In the holiday tourism sector, the image is everything
Branding is the external manifestation of your agency. To generate a good corporate image is to transmit the values or qualities that represent your brand, which is why we help you to achieve a synergy or agreement between the image and the brand, in order to project credibility, transparency, value and uniqueness to your clients.
Logo and visual identity design
Design and layout brochures/leaflets*
Editorial designcatalogs/magazines*
Design of displaysfor fairs and congresses
Photo correction, retouching and optimization
*The cost of printing is budgeted separately.
Business evolution services
Evolve your agency to the highest level
TECHNOLOGICAL CONSULTANCY
Analysis, advice and consultancy to manage all the resources offered by net2rent in the most optimal way. Documentary report, summary of critical and improvement points.
Online Marketing Advisory Services. Advanced SEO/SEM positioning, measurement and Analytics.
Community Manager and Social Media Marketing services.
We transform your data into knowledge.
Business Intelligence.
We analyze and report all you PMS records for the benefit of your organization.